By Tracy Abney, Guest Blogger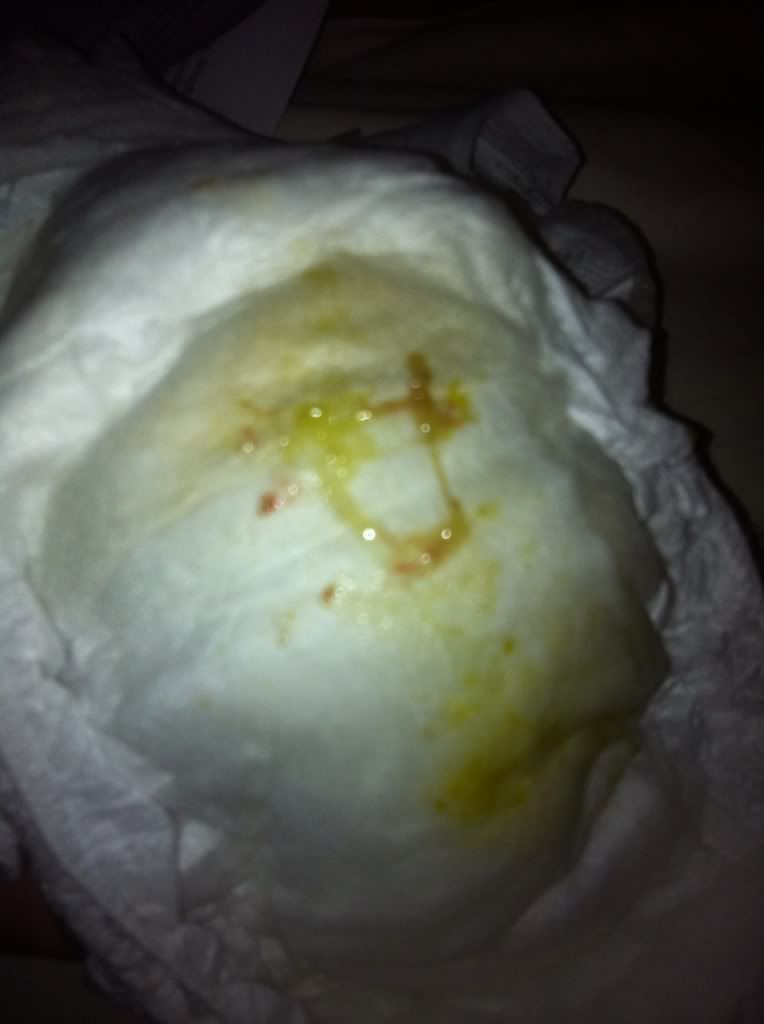 Green, mucous-filled diapers are NOT normal
After three kids, I'd seen my fair share of poop. So, when my forth child started having green, mucus filled, stools at 6 weeks, I knew something was off. Searching on Google, I saw that the types of stool my infant daughter was having were similar to other babies who had a milk protein allergy. I decided to cut out dairy a few days before my daughter turned 8 weeks old.
At my baby's 2 month appointment, I brought up the green stools. The pediatrician didn't have strong opinions about whether or not my child had a milk allergy or not. She only told me to listen to my intuition.
My intuition told me that it was, in fact, a milk protein allergy. As I continued to learn how to cut dairy completely out of my diet (checking those darn labels for secret ingredients that are actually forms of diary) I saw drastic improvement in the color of my baby's stool, gradually turning to that typical "mustard" yellow of breastfed babies. I had never thought of her as much of a crier, but her crying, especially at night, seemed to diminish as well.
As I neared the 3 week mark, which was how long the doctor had said it could take for the proteins to leave my little girl's body, I started noticing something else. Her diapers looked as if someone had sprinkled fresh black pepper in them. When I called the doctor, they assumed that it was probably nothing.
From that time, (she was around 3 months) until 6 months, we continued to see the black pepper-looking flakes. My baby also continued to have random crying jags, sometimes lasting for hours. Sometimes I could pin-point it to an accidental slip up of dairy. (Usually, due to me forgetting to read the label!) Other times, we had no clue what was causing her discomfort.
At my child's 6 month appointment, I brought it up again. This time, they decided to do some tests to check for blood in her stools. They all came back positive for blood. (It turns out the black pepper "flakes" were dried blood.)
Around this time is when we started discussing the possibility of a soy protein allergy as well. Without having a firm diagnosis, however, I was reluctant to cut soy out of my diet. Eventually, we ended up at the allergist.
The allergist diagnosed my baby girl with type 4 Milk and Soy protein allergy. Essentially it means that my daughter was having baby colitis any time she was exposed to dairy or soy proteins. Lots of cramping, gas, pain. The allergist told us that breastfeeding was the best thing I could do for my daughter now. She needed my milk!
Avoiding soy and dairy is not all unicorns and rainbows.
I walked away from that appointment pretty overwhelmed, but also determined. I had already learned to live without dairy. I could do without soy, too!
The hardest part about learning to live without dairy and soy was figuring out what I COULD eat. I learned how to determine what I couldn't eat pretty quickly, with label reading. But coming up with things I could eat proved harder.
Thankfully, someone pointed me in the direction of a
blog about MSPI
(that stands for Milk Soy Protein Intolerance). She had a list of recipes on her blog that contained every day ingredients. I didn't need to rush to the store to find some specialty item (though, I quickly found a chocolate I could have -Enjoy Life chocolate chips, if anyone is curious.) I meal planned my week out with what I had in my pantry and refrigerator.
With the help of her blog, and other websites like it, I learned alternative things to eat. Oddly enough, one very helpful resource is the abundance of Paleo recipes out there. (Paleo recipes are dairy/soy/grain free.) Different paleo recipes helped me think outside of my ordinary food repertoire.
I also made a binder full of restaurant information. Most chains have allergen information on their website that you can print out. I printed out several places near our house, or places that we frequent when we travel, and highlighted the things I COULD eat. That way, when we're in line, or sitting at our table, I can quickly pull out my binder, go to that restaurant's section, and choose from the things that are highlighted. One of my favorite places to eat here in town is Red Robin. They are SUPER helpful with allergies and actually have specific allergy menus. Plus, my binder helps me with avoiding "hidden" allergen foods, too. For instance, McDonald's French fries have dairy in them. I don't know about you, but I never would've guessed that on my own with out reading it in print.
There are a lot of benefits for ME to be dairy and soy free for my daughter. It's a whole lot easier to lose weight! Something I learned quickly was that fruits and vegetables are dairy and soy free! Plus, they were something I should be eating a lot of anyway. It was better financially as well. It's a heck of a lot cheaper to cut out something than it would've been to add in a special, very expensive formula.
The benefits for my daughter are, in a word, insurmountable.
Don't get me wrong. Avoiding soy and dairy is not all unicorns and rainbows. Sometimes I feel left out, especially at celebrations and get-togethers. Sometimes I just really want a fettuccine alfredo from Olive Garden. But, I remind myself that this is temporary. Eventually, my daughter will wean, and I can choose whether or not to eat dairy or soy. But, for now, I chose my daughter's health over my fleeting cravings.
Tracy is a birth doula who resides in Madison, AL, with her husband and four children. When not juggling kids and births, she enjoys sewing, running and spending time with friends.