I was born in the district of San Isidro in Lima, Peru.
Fortunately my mother didn't live in the United States when I was born. She lived in Lima, Peru. There was a wonderful German obstetrician practicing in Lima in those days by the name of Dr. Stricker. He operated the Clinica Stricker near Avenida Conquistadores in San Isidro, a lovely part of Lima.
Dr. Stricker was from the region of Alsace Lorraine in Germany.
My mother doesn't know exactly where he received his medical training. But what we do know is that he was obviously a student of the work of Dr. Grantly Dick-Read, the author of the 1933 pioneering work, Natural Childbirth which was eventually published in 1959 as Childbirth without Fear.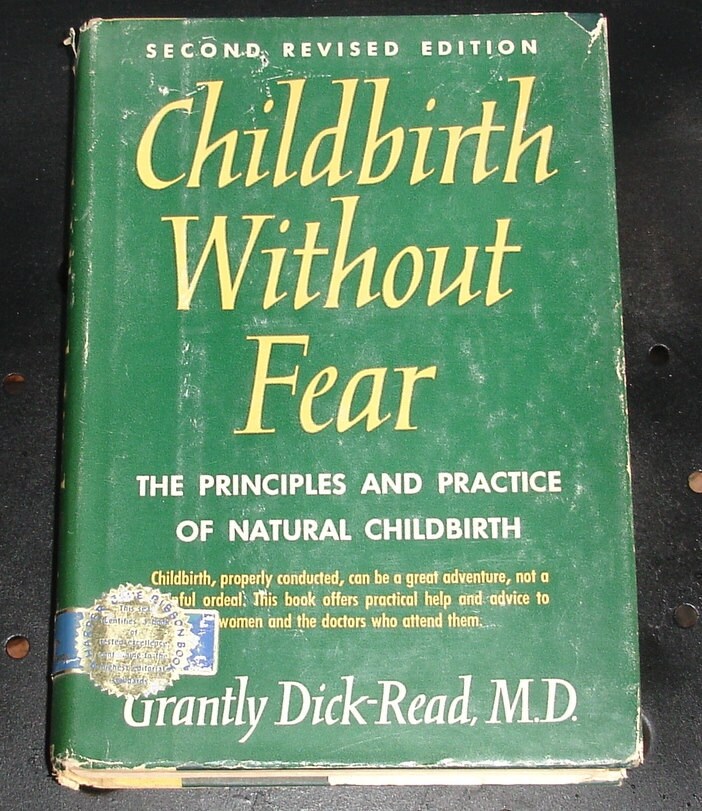 Dr. Dick-Read's classic resource on childbirth.
When my mother first met with him (bear in mind this is 1959, when most US women were having babies with "twilight sleep") he told her that she would not have any anesthesia because she wouldn't need it for the natural process which is childbirth. He emphasized that she must exercise daily, and he gave her special exercises to do. He also told her that she could only gain 18 lbs! (She was tiny to begin with....) In fact, he told her that if she gained more than that he wouldn't be able to be her physician. On that first visit he also told her that I would be breastfeeding right after birth.
During the course of her visits he explained that when she had contractions she would feel a lot of pressure. However, he never once referred to labor as pain. He explained to my mother that she would probably have to work harder than she ever had at anything in her life, but demonstrated absolute confidence in her abilities.
Her water broke at 5:00 in the morning, but she didn't really worry about it because nothing was going on yet. Around 11:00 she called Dr. Stricker to tell him that she was having contractions -- still spaced far apart. Upon learning that her water had broken several hours earlier, he insisted she come in immediately. They brought her lunch (yes, he DID allow women to nourish themselves during labor), but apparently I interrupted her lunch....
It all happened rather quickly once labor really started;
I was born in just a couple of hours.
She swears that there was no pain. She was exhausted, but it didn't hurt.
She had two nurses who helped her sit up when she needed to push. I was breach (yes, doctors back then knew how to deliver breach babies vaginally). He told her that the cord was wrapped around my neck and ordered her to push harder or I would die. So she did as she was told.
Moments later there I was. They didn't even clean me up before laying me on my mother's stomach where I enjoyed my first meal at her breast. She didn't have any idea how extraordinary this birth was because Dr. Stricker had, from the beginning, told her exactly how she would behave in labor.
The Plaza de Armas in 1960
Every morning I was brought in to nurse at 6:00, and I nursed as often as I wanted until 10:00 at night. At 10:00 I was taken away to a nursery where I was expected to sleep until 6:00 the next morning. My mother stayed at Clinica Stricker for a week, so by the time we got home, she says I was trained to sleep through the night!
I must say that I don't advocate separating mother and baby at night, but I do think that the majority of the things Dr. Stricker did were absolutely amazing! I am so thankful my mother had me in Lima instead of in the US! Fifty-three years later she is still one of the very most important people in my life. We talk daily and see each other several times a week. In fact, many days she is right here with me helping mamas at ANM. So next time you come in and see the lovely gray-headed lady behind the counter, be sure to let her know how much you enjoyed reading her birth story!