For many parents, Christmas pictures involve little Sally sitting on Santa's lap. They are adorable and sweet, but sometimes you just want something different. Sometimes you want to get back to the heart of Christmas by focusing on something other than the jolly old chap in red.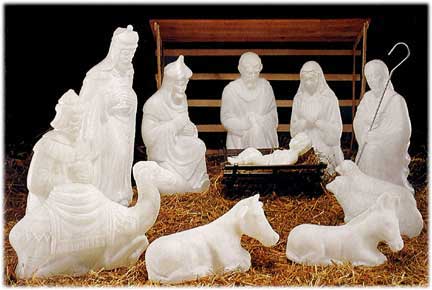 This year A Nurturing Moment and Lighthouse Photography are thrilled to present "A Child Is Born" Christmas pictures. The traditional setting will feature a nativity scene and Christmas decorations in muted Christmas tones, You can have one child or your whole family in the picture. The package prices include sitting fees, and are really reasonable!
Package A - $75 (session fee, 1 unit, online gallery to share & picture ornament)
Package B - $150 (session fee, 2 units, 9 custom Christmas cards, online gallery & picture ornament)
Package C - $300 (session fee, printable CD for 3 poses, 25 custom Christmas cards, online gallery and picture ornament)
A unit is 1 8X10, 2 5X7''s, 3 4X6's or 8 wallets
If you think friends from your church or moms group might be interested, please share this with them. We are scheduling pictures for Saturday, Nov. 5. If we need to add an extra day, we will! We still have slots available, so call today to reserve your space!