By Katie Stokes, Guest Blogger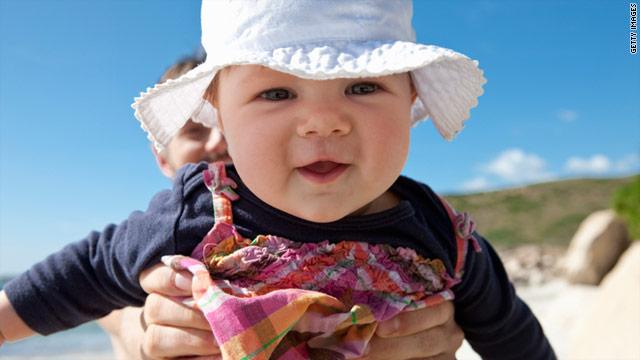 Keep baby covered up in the sun! From cnn.com
Why would you want to make your own sunscreen when there is such a wide variety easily available at the local drugstore? Here's why:
Most conventional sunscreens contain toxic ingredients that in many cases may actually promote skin cancer
growth and free radical production in the body. Skin cancer rates have actually risen since the use of sunscreen began. The chemical oxybenzone, for example, is one of the most commonly used ingredients and is cause for concern. Oxybenzone penetrates the skin, gets into the bloodstream and acts like estrogen in the body. It can also trigger allergic reactions. Furthermore, this chemical has been shown to be a cause of endometriosis and low birth weights in daughters of pregnant women who had higher levels of oxybenzone during pregnancy.
You will be surprised to learn that even "natural" sunscreens have toxic ingredients. There are a select few
comercially available sunscreens that are truly natural, but these can cost you upwards of $20 for a small 4 oz tube. Yikes!
The health risks associated with chemical sunscreen are enough to turn me away. But another reason to consider making your own is that it is very moisturizing and perfect for sensitive skin! As a mom to a toddler with eczema, we are very cautious what we put on our son. This is perfect for him!
Now on to the Recipe!
I purchased all of my ingredients in fairly large sizes from amazon. It cost me about $50 & I will get about 100 ounces of sunscreen!
This recipe makes around 10 ounces.
There are only 4 ingredients in this recipe! This recipe is designed to be more of a lotion consistency and can be put in a pump bottle.
You will need: .75 ounces beeswax
2 ounces coconut oil
8 ounces almond oil
2 TBS zinc oxide
(Organic ingredients are always best if available)
Directions:
1. In a double boiler, add your beeswax, coconut oil & almond oil. Melt this over medium heat. The beeswax will take a little while to melt (about 10 minutes). Stir often to avoid any spots burning.
2. Once your oils have completely melted, you will want to remove them from the heat and add the zinc oxide. With a stick blender (or hand mixer) blend, blend, blend. Scrape a spoon around the sides and along the bottom to insure that the zinc oxide powder hasn't settled. You want this to be very blended.
3. Once you are sure it is blended, transfer to a container of your choice. At this point, I put mine in the fridge to solidify it quickly so the zinc doesn't settle. It does not need to be kept refrigerated though.
As with all sunscreens, you will want to be sure to reapply every couple of hours. The beeswax does help the sunscreen to be waterproof.
This recipe will give you an SPF of 15. If you would like a higher SPF, the amount of zinc oxide can be increased.
We have tested this sunscreen in multiple settings including the beach & haven't had a burn yet!