by Glenni Lorick, IBCLC
Recently we did an
informal poll
on the
Facebook page
for A Nurturing Moment. The post reached over 4000 people and nearly 200 responded. A cross section of North Alabama hospitals was represented as well as a smattering of out-of-state facilities, but the majority of the respondents had given birth in Huntsville.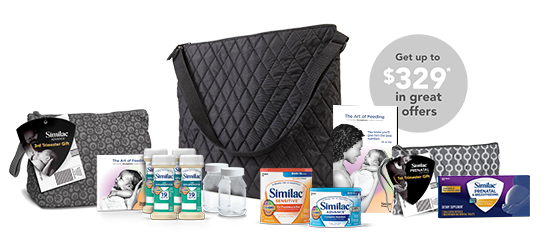 From the Similac site - free gifts....
The question asked was this: "Were you offered a formula gift bag or given free formula when your baby was born? If so was it at the hospital, a doctor's office (pediatrician? or OB?) or another location. Please answer for your MOST RECENT birth. Please give month and year. If you were not offered a gift bag, please respond with 'NO' and tell us where you had your baby."
We got some terrific data about the changing patterns of formula bag distribution. One of the steps for a hospital to become
Baby Friendly
involves the hospital no longer accepting free formula samples from the formula companies and not giving formula to breastfed babies unless there is a clear medical indication and it is ordered by a physician.
Hospitals in Madison County
There was a very obvious shift in lthe formula distribution at Huntsville Hospital over the course of the last year or so. Prior to 2014, 19 mothers indicated that they had been given formula. Since 2014 only 8 mothers were given formula, and 30 mothers said they were not given formula at all. As early as August 2013 one mother at HH was told that they no longer were giving formula bags. Several mothers who delivered there in the last year reported receiving a Huntsville Hospital bag with an insulated bottle bag, but no formula.
Fourteen mothers reported giving birth at Crestwood in 2014. Nine of them did not receive formula, and 5 of them did. Fifteen mothers had given birth at Madison Hospital. Fourteen of those mothers received no formula, and one did, but she reported that there was a medical indication for the formula, and it was given by physician recommendation.
Other Local Hospitals
Three respondents had given birth at Athens-Limestone Hospital; all three received formula. Of the three who had given birth at Decatur in the last year, two did receive formula, and one did not. A mother who gave birth last February said the nurse told her they weren't trying to push formula feeding, but were required to offer it so they could give away the free bags. However, by November, a mother who gave birth there did not receive any formula at all.
The Nurses at RMC in Anniston,
Alabama's only Baby Friendly Facility!
One mother gave birth at the state's only Baby Friendly Hospital,
Regional Medical Center
in Anniston. She was not offered formula. Two mothers had given birth in Cullman, and both were offered formula. Both Helen Keller and Eliza Coffee Memorial had one mother reporting; both hospitals gave formula. Marshall Medical Center was represented by one mother in each of their facilities (North and South). Both mothers reported receiving formula.
Four hospitals from Birmingham were represented in the poll. One mother delivered at UAB and one at Brookwood. Neither one received formula. One mother delivered at Princeton and did receive formula. Three delivered at St. Vincents, and all three received formula.
About 17 mothers had delivered in hospitals in other states. Eleven of them had not received any formula at all. Several other mothers had delivered at Birthing Centers or the Farm. As expected, they didn't receive any formula samples.
Physicians
Surprisingly, many mothers who didn't receive formula gift bags at the hospital did receive them from their OB/Gyn. Eight different OB/Gyn practices were mentioned as having given formula. One mother, however, made a point of saying that her OB, Dr. Conrad, never mentioned anything at all about formula! A couple of mothers mentioned receiving formula from their pediatrician, but one mother emphasized how thankful she was for it because she was having problems with milk production.
In a final surprising note, one mother mentioned receiving a formula gift bag from 4D Mommies!
Madison Hospital gets our ANM "Formula Free" Award!
Why It Matters
Some mothers really liked the idea of getting the cute bag. Some actually donated the formula to a local food bank or a mother in need. That is wonderful; however, studies have demonstrated that when a mother receives formula from a health care provider, it subtly
undermines her confidence
in her ability to breastfeed. Health Care providers have an obligation to help mothers offer the healthiest possible start to their babies. When they give a mother a formula sample, they are in essence saying that breastfeeding might work, but it might not, so just in case, Mom needs a backup. The truth is that with proper support, the vast majority of mothers can provide sufficient milk for their infants.
In conclusion, we want to applaud Huntsville Hospital for their elimination of formula gift bags and drastic reduction in infant formula being distributed. Actually, most of the formula that was distributed in 2014 was to NICU moms. But the hands-down winner of the ANM "Formula-Free" award is Madison Hospital! Congratulations are in order for the nursing staff and lactation consultants who have created an incredibly supportive environment for breastfeeding moms!